ANTEQUERA GOLF COURSE
THE PERFECT COURSE
TO FEEL THE MAGIC OF GOLF
<div class="num-cp"><div class="et_pb_number_counter et_pb_module et_pb_bg_layout_light et_pb_number_counter_0" data-number-value="72"> <div class="percent" style="color:#449363"> <p style="visibility: visible;"><span class="percent-value">72</span></p> </div> <h3>Par</h3> </div></div><!--– .et_pb_number_counter –--><div class="num-cp"><div class="et_pb_number_counter et_pb_module et_pb_bg_layout_light et_pb_number_counter_1" data-number-value="145"> <div class="percent" style="color:#449363"> <p style="visibility: visible;"><span class="percent-value">145</span></p> </div> <h3>Slope</h3> </div></div><!--– .et_pb_number_counter –-->
<div class="num-cp"><div class="et_pb_number_counter et_pb_module et_pb_bg_layout_light et_pb_number_counter_0" data-number-value="6105"> <div class="percent" style="color:#449363"> <p style="visibility: visible;"><span class="percent-value blanco">6105</span></p> </div> <h3>Metres</h3> </div></div><!--– .et_pb_number_counter –--><div class="num-cp"><div class="et_pb_number_counter et_pb_module et_pb_bg_layout_light et_pb_number_counter_1" data-number-value="5758"> <div class="percent" style="color:#449363"> <p style="visibility: visible;"><span class="percent-value allo">5758</span></p> </div> <h3>Metres</h3> </div></div><!--– .et_pb_number_counter –-->
<div class="num-cp"><div class="et_pb_number_counter et_pb_module et_pb_bg_layout_light et_pb_number_counter_2" data-number-value="5372"> <div class="percent" style="color:#449363"> <p style="visibility: visible;"><span class="percent-value azul">5372</span></p> </div> <h3>Metres</h3> </div></div><!--– .et_pb_number_counter –--><div class="num-cp"><div class="et_pb_number_counter et_pb_module et_pb_bg_layout_light et_pb_number_counter_3" data-number-value="4785"> <div class="percent" style="color:#449363"> <p style="visibility: visible;"><span class="percent-value rojo">4785</span></p> </div> <h3>Metres</h3> </div></div><!--– .et_pb_number_counter –-->
Antequera Golf Course will win you over. More than simply playing a round of golf, at our golf course you will truly live the complete golf-playing experience.
It is an 18 hole golf course, Par-72, covering a total surface area of 50 hectares. Designed in 2003 by the Ryder Cup player José Mª Cañizares, it is known for being a demanding golf course with a slope rating of 145. Different and unique, at Antequera Golf each hole tests the skill, precision and experience of the players. Come and play, and live the experience first-hand.
<div class="et_pb_button_module_wrapper et_pb_module md-enlace"> <a class="et_pb_button et_pb_module et_pb_bg_layout_light" href="/en/the-golf-course/hole-1/">Holes</a> <a class="et_pb_button et_pb_module et_pb_bg_layout_light" href="/en/the-golf-course/scorecard/"> Scorecard</a> </div>
Sign up for our Newsletter and get priority access to tournaments and offers on the golf course.
<script type="text/javascript" src="//static.mailerlite.com/data/webforms/377488/k3p8x0.js?v24"></script>
The best located golf course
in Andalucia
Our golf course is in a privileged location at the base of the Natural Park El Torcal (awarded UNESCO National Heritage status in 2016). It is ideally situated for visiting all of the Andalucian provinces, Antequera Golf being only 30 minutes from Malaga and the Costa del Sol, an hour away from Cordoba and Granada and an hour and a half from Seville.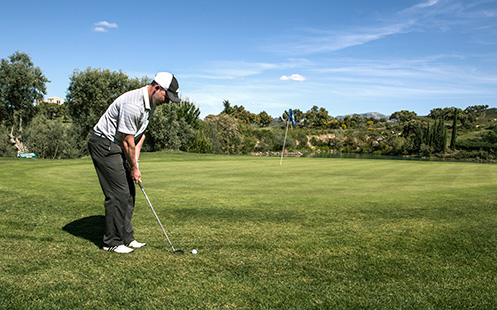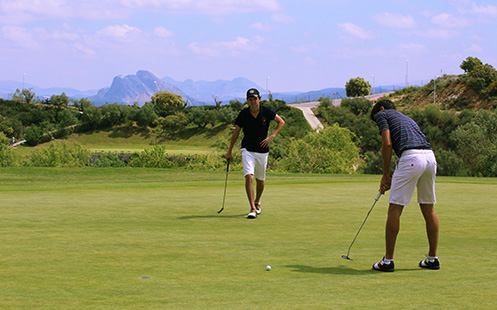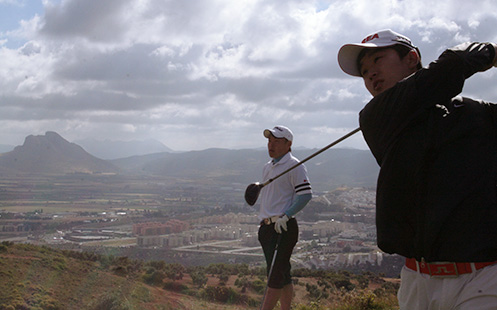 An ecological golf course
that is sure to impress
Enjoy a game on an ecological golf course. Our players form part of the natural environment and can get to know an area that evolves constantly throughout the seasons of the year. Whilst playing the course, players will have around them sixteen lakes, aromatic plants natural to the region such as thyme, rosemary, and lavender, as well as olive trees, oaks, shrubs and protected plant species like hawthorn. Animal species such as wild ducks, hares and partridges can also be found. Conservation and looking after this natural environment is something that is important to us.
Awards and recognition
for a winning golf course
Antequera Golf has hosted a number of important golfing events and championships. As from five years ago it is the chosen location of The Home Nations Championship; the World Competition of University Golf and the various university classifying competitions on a national level. In addition to this, Antequera Golf Course's spectacular design and marvellous views have impressed media outlets in the golfing community such as Sky TV, The Birmingham Mail, Golf Societies, Chips and Wedges, Midlands Golf, Golf Society News and Golfing Wales.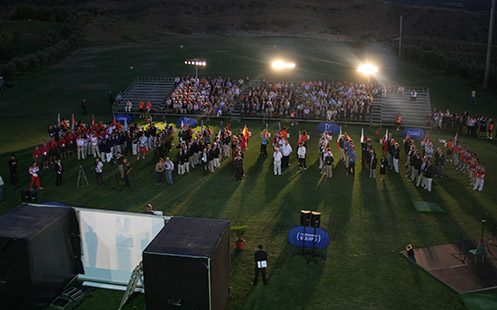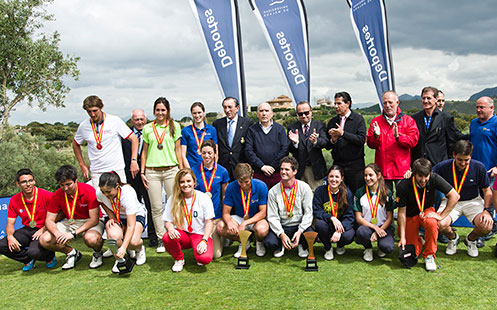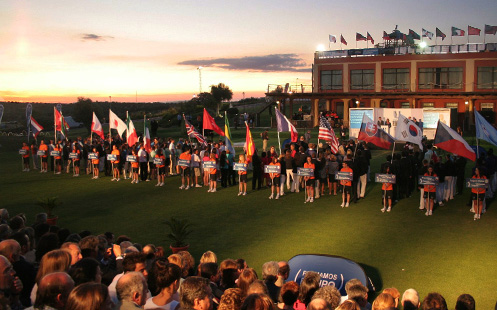 Carlos Domínguez
Director of Antequera Golf
Sports Training: Professional Golf Sports Technician (teacher) 1991, Madrid.
1,980-1,988 (Amateur) National Championships with Handicap 1.3. Las Brisas Royal Golf Club and Los Naranjos Golf Club.
1,987 course taught by Mr. José Arruti at San Sebastián Golf School, Real Club San Sebastián, Hondarribia.
1,989 Golf Professional, Golf Course taught by Mr. José Arruti for the Golf Assistant license, Sant Cugat- Barcelona.
1989-1994 attendance at the annual Conferences directed by Mr. John Jacons and Mr. Tommy Horton.
1991- Actuality, Professional and Golf Master (maximum category in the sport of Golf). Sports Technician Course taught by Mr. José Arruti, Madrid.
Experience:
Caddy-Master Real Las Brisas Golf Club, Marbella-Málaga
La Quinta Golf Club, Marbella- Malaga 1,987-1,997
Santa María Golf, Marbella-Málaga 1.997-2.001
Cabopino Golf Club, Marbella-Málaga 2.001-2.003
La Noria Golf, Mijas-Málaga 2.003-2.009
Closed Golf Club of the Eagle, Mijas-Málaga 2.009-2.016
La Noria Golf, Mijas-Málaga 2.106-Present